Kano garin masu baiwa
Mai abin tallatawa
Mai sarakai na baiwa
Mai sana'a sayarwa
Ina baki ku yi tahowa
Rabbi ne yai mana baiwa
Kano ta zarce kowa
A arewa Kanawa, ai sai Kanawa!!!
Wannan wani baiti ke nan daga cikin wakar "Kofofin Kano" ta fitaccen mawakin nan Aminu Ladan Abubakar wanda aka fi sani da Alan waka.
Kowa ya san birnin Kano ya san cewa yana daya daga cikin manyan cibiyoyin kasuwanci a yammacin Afirka.
An fara harkar cinikayya ne a birnin tun a wuraren karni na 14, inda baki ke shigowa har daga kasashen kudu da hamadar Saharar Afirka kamar Tunusiya, Aljeriya da Moroko da Tripoli ta kasar Libya.
Akwai manyan kasuwanni da suka dade a birni kamar Kurmi da kantin Kwari.
Kasuwar Kurmi ta samu tun zamanin Sarki Muhammadu Rumfa, yayin da Kwari ta zama ita ce kasuwar tufafi mafi girma a yammacin Afirka tun karni na 14.
'Yan kasuwa daga kasashe irin su Kamaru da Chadi da Nijar da Jamhuriyar Tsakiyar Afirka da Sudan da kuma mutane daga birane kamar Maiduguri da Jos da Gombe da Wukari duk ke zuwa sarin kaya.
A shekarun baya a lokacin da nake da wayo sosai na san yadda kasuwar Kantin Kwari ke cika ta batse da mutane masu saye da masu sayarwa, ta yadda hanyar wucewa ma kan yi kadan.
Ga duk wanda ya san yadda Kwari take, to zai bayar da shaidar yadda idan yamma ta yi za a ga ana fitar da kudi buhu-buhu na cinikin wannan rana don kai wa banki.
Sai dai wani babban abin da ya ban mamaki shi ne yadda a ziyarar da na kai Kwari a wannan makon shi ne yadda na ga abubuwa sun sauya, babu cunkoson jama'a kamar da, babu dimbin motoin daukar kaya a Filin Parking da Unity Road.
Sannan har na kai yamma a Kwari ina zagaye ban ga inda aka jawo buhun kudi don kai wa banki ba.
Wannan al'amari ya sa na tuntubi wani hamshakin matashin dan kasuwa a Kantin Kwari Sammani Adamu, wanda aka fi sani da El-Samad.
Gwamnatin jihar dai ta wallafa a shafinta na intanet cewa ana mu'amala ta naira biliyan 20 a kowace rana a jihar.
Na tambayi EL-Samad halin da kasuwar take ciki a yanzu da kuma yanayin tattalin arzikin jihar, sai ya shaida min cewa yanayin kasuwar ba dadi.
Rashin kudi
Ya ce babu kudi a hannun mutane ballantana ka ga ana hada-hadar saye da sayarwa kamar da.
"Yanzu mutane ta cikinsu suke yi ba wai ta kayan sawa ba, don haka kasuwar sai godiyar Allah," in ji El-Samad.
"Idan kika kewaye wannan kasauwar kuma kika ga wani da kudi a buhu zai kai banki, to ki zo zan ba ki kyautar naira 500,000," in ji shi.
Sai dai akwai wadanda suke danganta hakan da zamani, wato ta yadda yanzu ake cinikayya ta Intanet ba tare da zuwa banki kai-tsaye ba, kamar yadda ake yi a baya.
Rashin tsaro
Matsalar rashin tsaro sakamakon Boko Haram a arewa maso gabashin kasar, da kuma rikicin makiyaya da manoma a wasu jihohi ta sa manyan abokan cinikin 'yan kasuwar daga Maiduguri da Wukari da Mambila da Jos da kuma makwabtan kasashe duk sun rage zuwa.
EL-Samad ya ba ni labarin cewa a shekarun baya manyan attijarai ne ke zuwa sarin kaya daga Maiduguri, inda suke kai wa har Sudan.
A lokacin a kan samu attijirin da idan ya sari kaya sai dai a loda a tirela a kai masa Maiduguri, amma a yanzu rikicin Boko Haram ya yi raga-raga da da yawa daga cikin irin wadannan attajiran.
"Wallahi akwai mai kudin da na sani wanda a da idan ya zo sarin kaya, sai an cika tirela idan ya zo tafiya, amma a yanzu haka zai aiko min yana neman naira dubu biyar wacce zai ciyar da iyalinsa.
"Mutane da dama sun rasa dukiyoyinsu don haka yanzu babu abokan ciniki sosai.
"A shekarun baya idan kika zo Unity Road da kyar za ki samu hanyar wucewa saboda cunkoson jama'a da motoci, amma yanzu da idonki dai kin ga yadda kasuwar take," in ji El-Samad.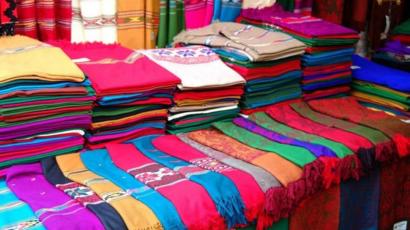 Binciken da na sake yi ta hanyar jin ta bakin mutane da dama a kasuwar ya sa na gano cewa abin da El-Samad ya fada lallai ba ja a kai.
Wani dan kasuwar da ya bukaci na sakaya sunansa ya ce min, "wallahi ba zan iya lissafi miki adadin manyan attajiran da suka karye ba a wannan dan tsakanin a nan Kano, sakamakon rashin manyan abokan hulda da ke zuwa daga wasu sassan daban-daban."
Ga alama dai matsalar rashin tsaro ta yi wa tattalin arzikin Kano mummunar illa, kuma ana bukatar kara zage damtse daga wajen hukumomi kafin a farfado da lamarin.
Kwarorowar 'yan China da Indiya
Wata matsalar da ta kara zama barazana ga tattalin arzikin jihar Kano da 'yan kasuwa ita ce ta yadda 'yan kasashen waje suka shigo da karfinsu kuma suka fi 'yan kasa samun tagomashi a harkar kasuwanci.
A tsawon sa'o'in da na dauka ina yawo a cikin Kantin Kwari na ga 'yan China da Indiyawa masu yawan gaske suna ta karakaina a kasuwar.
Ban yi nauyin baki ba sai na tambayi mutane da dama a kasuwar game da abin da fararen fatar ke yi, amsar da na samu yawanci ita ce, "ai wadannan sun zo sun mamaye mu, sun danne mu, mun rasa yaya za mu bullowa abin."
Ganin cewa El-Samad babban dan kasuwa ne kuma mai tafiya da zamani, sai na nemi jin karin bayani daga bakinsa.
"Ai yanzu idan akwai wani abu da ke ciwa manya da kananan 'yan kasuwa tuwo a kwarya to bai wuce baba-keren da 'yan China da Indiya suka yi a kasuwar nan ba.
"Sai ka je ka saro kaya a kasarsu, sai su koma su yi irinsa a farashi mai rahusa daba za su ba mu a kan haka ba, sannan su zo su sayar a farashin da bai kai namu ba, nan da nan sai ki ga nasu ya kare,"in ji El-Samad.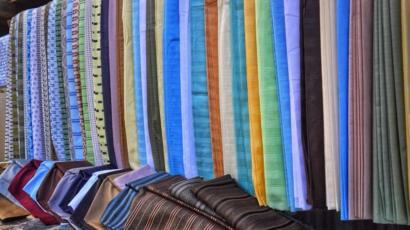 Ya ci gaba da cewa: "Kuma abin takaicin shi ne yadda gwamnatocinmu ba su damu da sanya musu dokokin da mu ake sanya mana irinsu a kasashen su ba.
"Manyan 'yan kasuwa da yawa sun karye kananan kuma 'yan China sun danne su.
"Gwamnati ba ta sanya wata doka ta hana su sayar da kaya daidai ba su tsaya a sararwa kawai. Hakan yana ci mana tuwo a kwarya," in ji shi.
Ina mafita
Ga dukkan alamu dai ana bukatar daukar matakan gaggawa don shawo kan wannan tarnaki da babbar Kasuwar ta Kantin Kwari ke fuskanta, domin ceto tattalin arzikin Kano da ma na arewacin Najeriya baki daya.
Masu sharhi kan al'amura na ganin akwai bukatar hukumomi su kara kaimi a fannin tsaro, manoma su kara dukufa a harkar noma don samun yawaitar kudade a hannun jama'a.
Wasu kuma na ganin ana bukatar sanya wa 'yan kasashen waje dokoki. A kara duba dokar World Trade Organisation WTO.
Sannan a sanya wa masu zuba jari na kasashen waje shinge kan wasu abubuwan, kuma akwai bukatar 'yan kasa su kara zage damtse wajen dawo da tattalin arzikin kasa.
Lallai idan aka dauki matakai, Kano na iya dawo da martabarta a fannin kasuwanci ko ma ta fi da.
#BBC Hausa