Fitaccen jarumin fina-finan Hausa, Adam A. Zango ya koda kansa a matsayin wanda ya fi yin fice cikin hausawa a duniya.
A wasu jerin bidiyo da ya wallafa a shafin Instagram ya ce "Ni ne Bahaushen da na fi ko wane Bahaushe suna da masoya a duniya."
Jarumin ya ce ba shi ya fada ba masu bincike ne suka binciko.
Sai dai bai bayyana wadanda suka yi binciken ba har suka tabbatar da ya fi sauran hausawa shahara a duniya.
Adam A Zango yana da mabiya dubu 891 a shafin Instagram, sai dai kuma fitaccen jarumin fina-finan hausa Ali Nuhu ya fi shi yawan mabiya a Instagram inda yake da mabiya sama da miliyan daya.
Haka ma fitacciyar jarumar finafinan Hausa Rahama Sadau ta fi shi yawan mabiya a Instagram inda take da masoya miliyan 1.2.
Amma a cikin bidiyon wanda ya kira sako ga masoyansa, A. Zango ya ce shi ne ma'anar sarki.
"Duk mutumin da yake son ya zama kamar Zango to sai ya shirya wa kalubale da gwagwarmaya, bala'i da masifa ko wane iri"
"Ni kai na da Allah ya nuna min irin matsaloli da bala'in da na shiga kafin na kai wannan matsayin to da zan hakura," in ji shi.
Jarumin ya yi gugan zana inda ya ce kada wasu su tsargu da abin da yake fada.
Ya ce ana gayyatarsa a kasashe da dama kuma sai an rasa shi ake neman wasu saboda daukakarsa.

Rayuwar Adam A Zano a takaice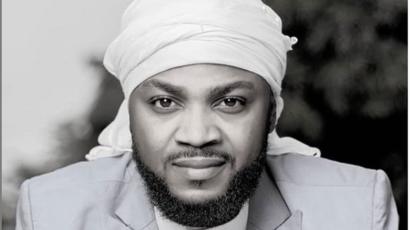 An haife shi a garin Zangon Kataf a jihar Kaduna
Ya bar garin a 1992 bayan rikicin kabilancin da aka yi
Ya koma arayuwa a jihar Plateau inda ya yi karatun Firamare
Talauci ya hana shi cigaba da karatu a wancan lokacin
Tun yana yaro ake masa lakabi da Usher – mawakin nan dan Amurka saboda yadda yake rawa
Ya koma Kano inda ya fara aiki a wani kamfanin kade-kade da raye-raye
Fim dinsa na farko shi ne Sirfani, wanda ya ce shi ya shirya shi da kansa
Ya fito a fim sama da 100 a tsawon shekara 16